Double eyelid surgery is one of the most common procedures that KPOP idols undergo, second only to rhinoplasty. The procedure is sometimes known as "blepharoplasty", "Asian crease surgery" or "Asian eyelid surgery". It is often combined with other surgeries to widen the eyes (e.g. incision at inner corner of eyes), but for the sake of this explanation, we will cover double eyelid surgery only.
What does a double eyelid even look like?
A double eyelid is basically an eyelid with the crease showing. It is common for Caucasians to have double eyelids but less common for Asians. Approximately half of all Asians have what is referred to as monolids or single fold eyelids, which is a heavily lidded eye without a visible crease. The other half have double eyelids, but these double eyelids are slightly different in appearance than their Caucasian counterparts. Contrary to popular belief, most Asians who undergo double eyelid surgery are seeking Asian double eyelids, and are not desperately trying to look western.
What surgical methods can achieve a double eyelid?
Here's where I had to do a lot of research and some of it was quite disgusting (surgery pictures, ew).
There are three methods to achieve permanent double eyelids, the buried sutures method, full incision or partial incision. In the first method, small sutures are knotted above the eyes to create the folds. The benefit of this method is that it can be reversed.
The most common method in South Korea to achieve double eyelids is the full incision method. Among the three methods, it is supposed to create the most satisfying double eyelids in the long-term, although it takes a longer time to look natural. In this method, an incision is made in the upper eyelid, fat and tissue is removed, and the incision is then stitched up. The line of the sutures becomes the crease in the new double eyelid.
The partial incision method is an alternative to the buried sutures and full incision methods, and has a shorter recovery time than the full incision method. The double eyelid lines extend up to the last third of the eyes, as opposed to the full incision method where the lines go beyond the last third of the eyes.
There are also a few non-surgical methods to achieve double eyelids, namely eyelid tape or glue. You can purchase these online and there are plenty of tutorials around to help you figure out how to use them. If you're interested in the non-surgical methods, Google is your friend.
Before and after examples
Here are some before and after pics of double eyelid surgery, courtesy of ID Hospital.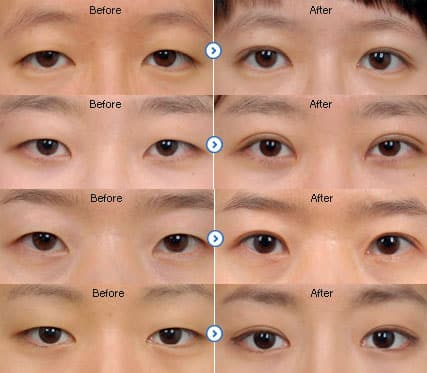 For before and after examples of idols with double eyelid surgery, check out our eye work category!
Further reading
Still curious? Here are some links with more information. Please note that this symbol (!) means that there are some possibly icky pictures to be seen at the link. Even links without the symbol might have some triggering images, so just be aware. I mean, we are discussing surgery here. It's all body horror to me.
Please note that the information in this article is NOT meant as medical advice. If you are interested in this topic, do your own research, or better yet, see a specialized medical professional.