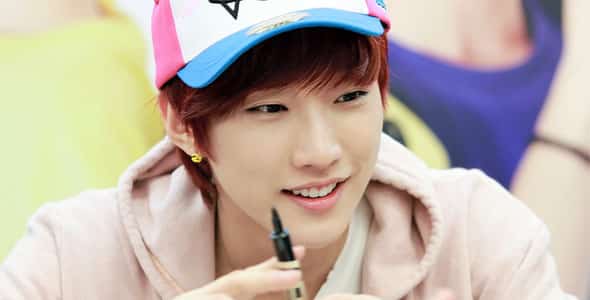 Another reader request! Yay! We're always happy to take your requests because it means we learn more about KPOP groups we don't normally follow. Today we're looking at Jinyoung, leader of B1A4.
The first thing I noticed about Jinyoung are his incredibly deep and perfect eyelid lines – a dead giveaway for double eyelid surgery. I was also suspicious of his beautiful nose, especially because it's common to get double eyelid surgery and rhinoplasty together (KPOP Combo!). However, it's quite difficult to tell if he's had anything done to his nose. Either he just had it refined, or his nose is naturally that pretty. Either way, it really suits his face (not always the case when it comes to surgery). Kudos to his subtle surgeon/mother nature!
EDIT: I've come back to this post a day later to say that Jinyoung definitely had a nose job. Although it is not a major change, it looks like he got rid of the bump he used to have on the bridge of his nose. I noticed it today while I was watching this video clip from 2011.
Before and after pics