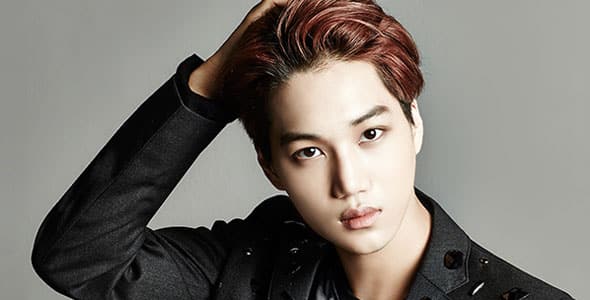 For some reason I thought we'd covered all of EXO already, but it turns out we haven't (although their numbers are ever decreasing at the moment). So today we look at EXO-K's main dancer Kai.
First things first: His double eyelid surgery. Yes, he's had it. He has very deep creases which, in itself, does not prove that he's had the procedure, but when you can still see those obvious creases when he's got his eyes closed then it's a dead giveaway. As you may know, in double eyelid surgery they stitch along the upper eyelid resulting in a permanent crease line.
He's also had a nose job. This seems to be a more recent thing because I'm pretty sure back in EXO's debut days, Kai still had quite a flat, wide nose tip. Now the tip of his nose looks different, less rounded.
So it's the KPOP Combo for Kai, which is not all that surprising coming from SM, really.
Before and after pics
Name of the Actor on Stage: Kai
Name at birth: Kim Jong In ()
Primary Dancer, Secondary Vocalist, and Secondary Rapper Born: January 14, 1994
Capricorn is the horoscope sign for today.
Nationality: Korean
Height: 5'11" 180 cm
Body mass index (BMI): 27 (148 lbs)
Blood Type : A
South Korea's capital city of Seoul
Dance is one of her specialties (ballet, jazz, hip hop, popping, rocking)
the EXO-K subunit
Teleportation (Super Power Badge)
Instagram: @zkdlin
Instagram: @zkdlin
Kai facts:

The following is some information about Kai: –
He was born in Suncheon, South Jeolla Province/Jeollanam-do, S. Korea.
I have a dad and a mom, plus two older sisters (one 9 years older and another 5 years older)
– Schooling: Seoul Arts High School (South Korea)
– My personality type is INFJ.
After winning the 2007 SM Entertainment Youth Best Contest, he was given a role in the company.
When EXO-K debuted, he was the first member to be shown to the public.
– Before the group's official debut, he appeared in a total of 13 teasers.
– Ballet, Jazz, Hip Hop, Popping, and Locking are just a few of his favorite dance genres to perform.
– Kkamjong (which means "dark Jong") and "Dark Skin" are two of his nicknames.
– Since his solo performance "Deep breath" in Japan was so well received, he's been dubbed a number of different things: Asia's first love, Sun-kissed boy, K-sharpest Pop's dancer, and Olympics secret weapon. He's also been called many other things: Idol's idol, K-idol, Pop's and Asia's first love (by the editor of Lined magazine)
He's quiet, shy, and kind-hearted, despite his stage persona leading some to believe otherwise. – Personality: Jongin is a shy little girl in real life, according to Beakhyun, and acts more like a maknae than Sehun. Kai also has the shortest fuse of the members.
The biting of his lips is a frequent occurrence in his life.
– He enjoys dancing, reading, and listening to music as pastimes.
– R&B and Hip Hop are his preferred genres of music.
– He is a huge fan of video gaming.
– Fry chicken and roast duck are two of his all-time favorite foods.
– The number one is dear to his heart.
The colors black, red, and sky blue are among his favorites.
– He excels in a wide range of games.
– Kai was not a fan of the beverage. For some reason, as seen in his most recent live streams, he's grown to appreciate and even enjoy the taste of coffee.
– When the members of EXO are off, Kai enjoys going biking, reading, listening to music, dancing, and surfing the internet to find new videos to watch.
– Despite his lack of talent, he says he enjoys playing soccer as much as Xiumin or Luhan.
– He boasts that he can recall the names of all the EXO members' favorite football players faster than anyone else.
– During the "Ask me anything" episode, he mentioned that he initially refused to eat with D.O. because he was uncomfortable with his glaring (which was caused by D.O's nearsightedness). In the end, they grew extremely close in a matter of days.
– "Live in Levi's" is Kai's campaign for Levi's, in which he is the face.
– Idoldom has given him the opportunity to pursue his passion for dancing full-time.
– On "Ask us anything," Kai revealed that he auditioned for the show because his father promised to buy him a nintendo. Kai has three dogs: Monggu (a poodle), Jjanggu, and Jjangah (toy poodles).
– Jongin designs cups and other items for his sister's cafe, Kamong, which he helps run.
– The first thing he says whenever he gets the chance is, "Be happy!" because he believes that this is the most important thing in the world. He used the word "happiness" thirty-two times in his most recent interview with L'Officiel Hommes.
– It was his first time performing on his own at the Olympics' closing ceremony (on the 25 February).
– With Sehun, Lay, and Taemin on Happy Together, and in The Return of Superman with Taemin (with baby Taeoh who is said to look like him)
– A chronic illness claimed the life of Kai's father on May 7th, 2018.
– For the past three years, he's been voted the best K-pop dancer by his peers.
– On the web, he has appeared in the dramas "Choco Bank" (2016, 2016), "First Seven Kisses" (2016, 2016), and "Miracle That We Met" (2017, 2017). (2018)
"Spring Has Come" was his role in the Japanese drama (2018)
– According to TC Candler's "The 100 Most Handsome Faces of 2018," Kai is the 51st most handsome man.
– SHINee Taemin, BTS Jimin, Wanna One/HotShot Sungwoon, HotShot Timoteo, and VIXX's Ravi are all friends of Kai's.
TVXQ's "HaHaHa Song" music video featured him and members Suho and Chanyeol briefly.
– He appeared with Sehun, Baekhyun, and Chanyeol in Taetiseo's Twinkle music video.
"To The Beautiful You" (2012) starred him as EXO-K member "Andante" (2017).
– EDIT: DO. and Chanyeol now share a room with him (Star Show 360).
Update: He now has his own bedroom.
– Michael Jackson serves as a role model for him.
– If he hadn't joined EXO, he says that his dream job was to be a ballet dancer.
– He enjoys slapping the shoulders of strangers.
– When he's sleeping, he prefers not to be disturbed.
– He enjoys listening to soft music (Star Road Ep 6)
In order to de-stress, he goes to the gym (Star road ep6)
– Kai is a workaholic who enjoys his job (Star Road Ep. 6)
– Exodus is his favorite EXO album (Star Road ep6)
– He doesn't like oysters that are still raw (Star Road ep6)
– Today, his nieces, nephews, extended family, friends, and work all bring him happiness (Star Road Ep 6)
– One of Kai's fondest memories of EXO is the time they spent volunteering at the Red Cross. (While there, they cleaned the facility and interacted with the special needs children.) For the time being, he intends to continue doing charitable work.
– While some see him as blunt and stylish, others see him as adorable as a puppy.
– He claims to want to treat others well, but he has a hard time expressing how he really feels about them.
– He claims that as long as people love him, he'll reciprocate with twice as much love.
– He's not the type to approach a girl on his own, but he'll make an effort to get to know her over time.
– Since March 2016, Kai has been seeing f(x) actress Krystal.
– SM Entertainment announced on June 1st, 2017, that Kai had ended his relationship with Krystal for good.
– The Japanese drama "Sping has come" and the Korean drama "Miracle That We Met" have both featured him as a leading actor (2018).
– Many people have commented on his bear-like features. Accepting this, he now dresses in bear-themed clothing, calls himself a bear, and belongs to a fan club called erigoms, which means 'bear' in Swedish.
– Beakhyun revealed in 'Party People' that Jongin is more like a shy little girl in real life and acts more like a maknae than Sehun, so yeah.
– Many homeless people thanked him and EXO-Ls who bought the magazine for their contribution after his issue of the magazine "Big Issue" broke sales records.
– People often mistook him for a girl when he was younger because his mother preferred him to have long hair.