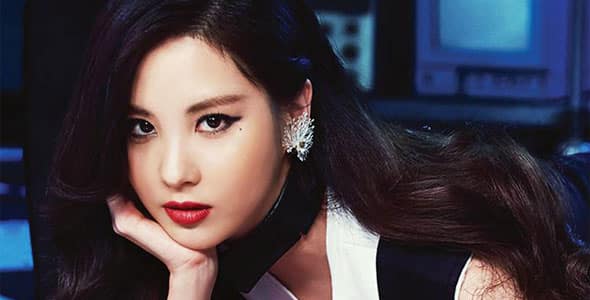 I know we'll get a lot of hate for this one since people love to bang on about what a natural beauty SNSD's Seohyun is and now she must have an allergic reaction to get all bloaty-faced like that, so lets fight it out here.
There are lots of pre-debut videos and photos around to show that Seohyun always had a cute, round face and a lot of aegyo sal. Every once in a while her upper eyelid creases seem very pronounced, but I've been told she uses eyelid tape, which makes it hard to know if she ever underwent double eyelid surgery or not. What I can tell you is that she has aegyo sal to the point of looking inhuman (see pics), which suggests she gets filler. I don't think she had the surgery because her aegyo sal fluctuates.
I can tell you one thing for certain though, Seohyun has had a nose job. Her nose still looks nice and not wholly unnatural, but it is definitely the smaller, "cuter" version of what she had before. Check out the pre-debut video above and the after photos below to see the way the tip of her nose has changed.
When it comes to her well-known puffy face, it might be a reaction to botox, it could be dermal filler, fat grafting, or it might just be that she was always very chubby-cheeked, and her new, smaller nose has exaggerated this feature.
Before and after pics
Click here for more exciting news on SNSD